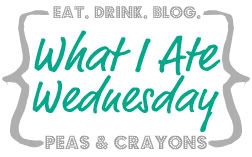 Today I am linking up with a WIAW (WHAT I ATE WEDNESDAY) blog post thanks to Peas and Crayons!
As a personal trainer and group instructor I am frequently asked what foods I eat on a regular basis. Some people say to me "I am sure you can eat whatever you want all the time," but I don't! Eating healthy is always my goal, but I am far from perfect and indulge on occasion!
Here is a sample of some of my daily eats! 
98% of the time my morning starts with some sort of Egg breakfast!! I am definitely an egg girl. I also had some strawberries on the side. 
Here is my mid-morning snack.. a LARGE scoop of peanut butter and grapefruit
Lunch was a big salad with some Chicken Cutlet tossed in the mix & a Sweet Potato… plus some grapes
Afternoon Snack Cut up cucumbers & peppers, and I was craving something with chocolate so I ate a Kashi Oatmeal Dark Chocolate Cookie
Dinner was leftover chicken marsala with a tossed salad drizzled with balsamic dressing
Post Boot Camp Class Tostones in coconut oil (plantains) and not pictured some homemade popcorn, I ate it before I remembered to snap a pic!
Well that was a lot of food to post! I hope you all have a wonderful Wednesday! Feel free to share your eats!