Today I am linking up with Jenn and sharing with you some of my eats for a What I Ate Wednesday post. Are you a leftover person? I personally love having leftovers in the fridge.  When I don't have to think about food, I am a much happier person!! Opening the fridge and seeing containers full of food makes my life so easy!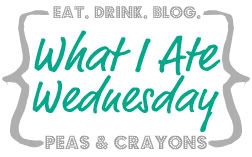 Now.. on to my food journal from yesterday.
 I need eggs in the morning, but I think I could also use a little more variety too. Every time I try to switch it up and have scrambled eggs, I think to myself "why didn't I make over easy eggs??" Runny eggs have so much more flavor to me.  You could just say that its my thing, I don't know what to tell you!….well actually I do. It works with my schedule and more importantly it works with Ava's! Getting her ready and feeding her in the morning is my priority, and that is why my breakfast has gotten boring. I'm kind of stuck for now, but eventually someone might have to force me to get more creative with my Breakfast!
Here is my breakfast, 2 eggs over easy, some toast and sauteed spinach. I always try to have spinach in the morning because I have low iron.
My toast was a little blah so I ended up sprinkling cinnamon on it! I guess that's not quite a sprinkle, it came out quite fast.
After training one of my clients in the morning I snacked on a small banana and a Cashew Cookie Larabar. Nothing wild here. Sometimes simple is better, and it certainly was in this case.
My lunch consisted of Leftover Chicken Francese, Broccoli & Carrots and a 1/2 of a leftover Sweet potato. Chicken francese is not a meal I typically order or like too much.  However in this case, it was left over, it was not my original meal, and I have to admit it was pretty tasty. With a very light breading and just the perfect amount of lemony-ness I wish there was more than the 1 piece.
In the afternoon I wasn't too hungry but I snacked on an apple with peanut butter, and also a piece of watermelon. Ava's teeth were bothering her so I had bought her some watermelon to dig her teeth into. Even though it's fall, this juicy watermelon tasted great.
Normally before Boot Camp class I have something light, but we ate some leftover Beef & Veggie Chili with Avocado stuffed inside an Acorn Squash. It was quite delicious and a little too filling but I loved every bite. (I had twice the amount of chili that is in the acorn squash)
I always eat something after Boot Camp Class.. we burn too many calories not to. I opted for a Protein Shake!
Also not pictured, were some plantain chips that I had with my snack. I forgot to snap a pic!
Are you a fan of leftovers? 
What are some of your go to snacks?